CONSISTENTLY FLEXIBLE AND BALANCED
The mixed fund DJE - Zins & Dividende stands for balance and flexibility, for the active management of equity and bond quotas, for consistency and the lowest possible fluctuations, for staying calm and keeping a cool head during the corona crisis and for winning the German and Austrian fund awards four times in the meantime.
Steady performance since its launch in February 20111 %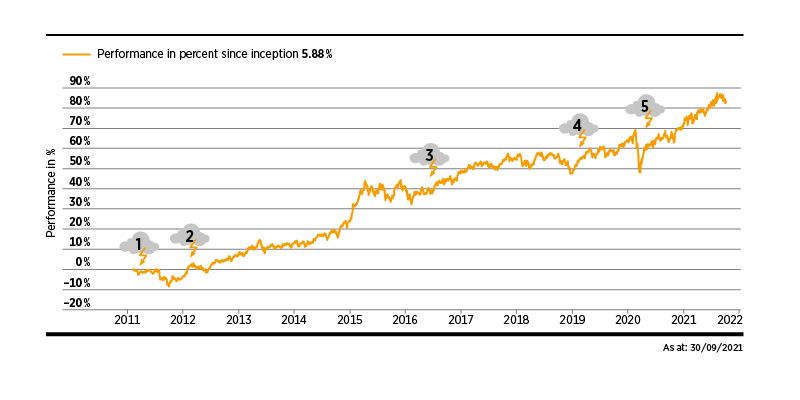 The fund has proven its reliability in the past - for example after the Fukushima reactor disaster (1), during the euro crisis (2), after the Brexit vote (3), during the trade conflict between the USA and China (4) or during the Corona crisis (5) - and has been able to gain an average of 5.88% per year and a total of 83.70% since its launch.

BASIC INVESTMENT FOR (ALMOST) EVERY PORTFOLIO
Fund manager Dr. Jan Ehrhardt is using the maximum range of asset classes (at least 50% to a maximum of 75% bonds or at least 25% to a maximum of 50% equities) to take advantage of opportunities or to protect the portfolio from risks in difficult market situations. In doing so he always follows one basic principle: to avoid losses as far as possible
In order to achieve a performance that is as steady and low as possible, the fund management acts beyond panic - as in the Corona crisis selloff - and greed, as it occurs in overly euphoric phases, but calmly analyses the fundamental situation of the markets, the monetary situation and the market sentiment. This is the heart of DJE's investment philosophy.
With this consistent, reliable approach, DJE - Zins & Dividende opens up the earnings potential of bonds and equities to its investors, remains balanced and flexible at all times and is therefore suitable as a basic investment for almost any portfolio.
FLEXIBLE PORTFOLIO ALLOCATION

Source: DJE Kapital AG. As at: 2021.
As a balanced mixed fund, DJE - Zins & Dividende invests flexibly in equities and bonds, depending on the expected market situation. Its sources of return are the interest on high-quality bonds and the distributions of high-dividend companies. Currently, the fund portfolio consists of approx. 50% bonds and 50% equities. If the allocation remained at this level, the fund would receive around 2.6% in income - half of the average expected interest and dividends in each case. In addition, there are possible price gains on the securities.

In 2021, commodity prices rose across the board, causing inflation to pick up for the first time in years. As a result, the fund management has hedged parts of the bond portfolio against interest rate increases. On the equity side, with growing economic confidence, the focus is once again on more sectors than just technology, including insurance, commodities, telecommunications, healthcare and chemicals, which are favorably valued by comparison and offer high dividend yields.
Add some helpful and informative content here.
---
PERFORMANCE OF THE DJE - ZINS & DIVIDENDE PA IN THE CALENDAR YEARS SINCE ISSUE 10.02.2011)3


DJE - Zins & Dividende achieved a positive performance each year except 2011 and 2018.
ROLLING PERFORMANCE (5 YEARS) OF THE DJE - INTEREST & DIVIDEND PA (EUR)4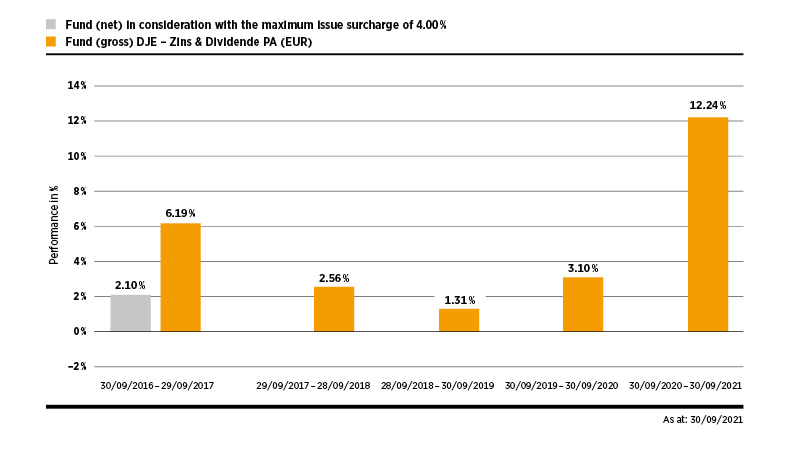 *Date of investment: Due to a one-time subscription fee in height of 4% at the time of purchase, these costs have a negative impact on the performance of the investment.

THE ADVANTAGES
THE RISK

The fund aims for the most positive, low volatility performance possible in every market phase.

Possible share price gains are supplemented by expected interest income from international bonds and dividend distributions.

Continuous income from interest and dividends can serve as a safety cushion in the event of price slumps.

The portfolio is continuously adjusted to changing markets.





The price of an investment may go up or down and you may not get back the amount invested.

Income from interest and dividends is not guaranteed.

Bonds are subject to price risks when interest rates rise.

Bonds are also subject to country risks and the credit and liquidity risks of issuers.

Equities carry the risk of sharper price declines due to specific company developments and general market conditions.




In the case of securities not denominated in euros, there is a currency risk for euro investors.
1, 3, 4 - Source: Bloomberg, DJE Kapital AG. As of September 30, 2021. The performance charts and tables shown are based on our own calculations and were calculated according to the BVI method and illustrate past performance. Future results may deviate positively or negatively from these. The gross performance (BVI method) takes into account all costs incurred at fund level (e.g., the management fee), while the net performance additionally includes the front-end load. Further costs may be incurred individually at customer level (e.g. custody fees, commissions and other charges).
2 - Source: Bloomberg, DJE Kapital AG. As of 30.12.2020 or 30.09.2021. DJE - Zins & Dividende compared to DAX, Euro Stoxx 50, S&P 500, Topix, MSCI World, German government bonds = BD Benchmark 10 Year DS Government Index, EUR. High quality corporate bonds worldwide = Bloomberg Barclays Global Aggregate - Corporate Index, EUR. All index data in euro terms.
Source and copyright for the awards can be found at this link: https://www.dje.de/unternehmen/uber-uns/auszeichnungen--ratings/2021/ratings/2021/
Note: All information published is for your information only and does not constitute investment advice or other recommendation. Long-term experience and awards do not guarantee investment success. Securities are subject to market-related price fluctuations which may not be compensated for by the active management of the asset manager or investment advisor. This information cannot replace a consultation. All information has been provided with care and to the best of our knowledge at the time of preparation. Despite all due care, the data may have changed in the meantime. Further information on opportunities and risks can be found on the website www.dje.de. The sales prospectus and further information are available free of charge in German from DJE Investment S.A. or at www.dje.de The fund management company is DJE Investment S.A. DJE Kapital AG is the distribution agent. A summary of investors' rights can be obtained free of charge in German in electronic form on the website at https://www.dje.de/de-en/summary-of-investor-rights. The funds described in this marketing document may have been notified for distribution in different EU Member States. Investors' attention is drawn to the fact that the relevant management company may decide to withdraw the arrangements it has made for the distribution of the units of its funds in accordance with Article 93a of Directive 2009/65/EC and Article 32a of Directive 2011/61/EU.


---